A number of locations are missing from the 1901 Census of Ireland on The National Archives of Ireland website – for a variety of reasons. Some seem to have missed filming so were not available for digitation, some were damaged or lost, also a few sections filmed but not transcribed and indexed. Baldoyle town and civil parish County Dublin falls into a slightly different category…
Baldoyle civil parish contains four townlands; Baldoyle, Grange, Maynetown and Stapolin, with the town located in the townland of the same name. All of these are missing for 1901 on the National Archives of Ireland website.

On the 1911 returns these 5 locations are listed under part of Coolock electoral district, and cross checking an earlier source, Handran's "Townlands in Poor Law Unions" 1885, confirms that these were in the same electoral district at that time – so likely Coolock in 1901. There's no sign of any of these locations in either the street/townland browse or the search function for 1901 on the National Archives of Ireland website.

Luckily there's another source for the 1901 census online, the FamilySearch website which has both transcripts and images. To access the transcripts collection select search / records from the menu and pick Ireland from the map – a list of collections is displayed including the 1901 census.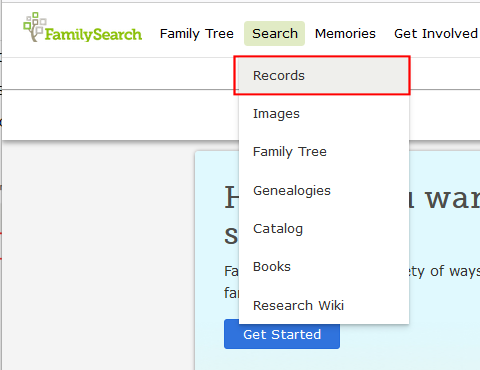 This collection shows a transcripts of the household returns and for images links to the National Archives of Ireland website. The only mention found of Baldoyle in these records is as place of birth.
The second relevant collection is the 'images' or microfilms, to access this option select search / images on the menu.
Entering Baldoyle as search term shows several options, selecting the first option (Baldoyle… Catholic Parish) and then clicking the search option shows Baldoyle 1901 census as a result and the link leads to the standard FamilySearch film viewer.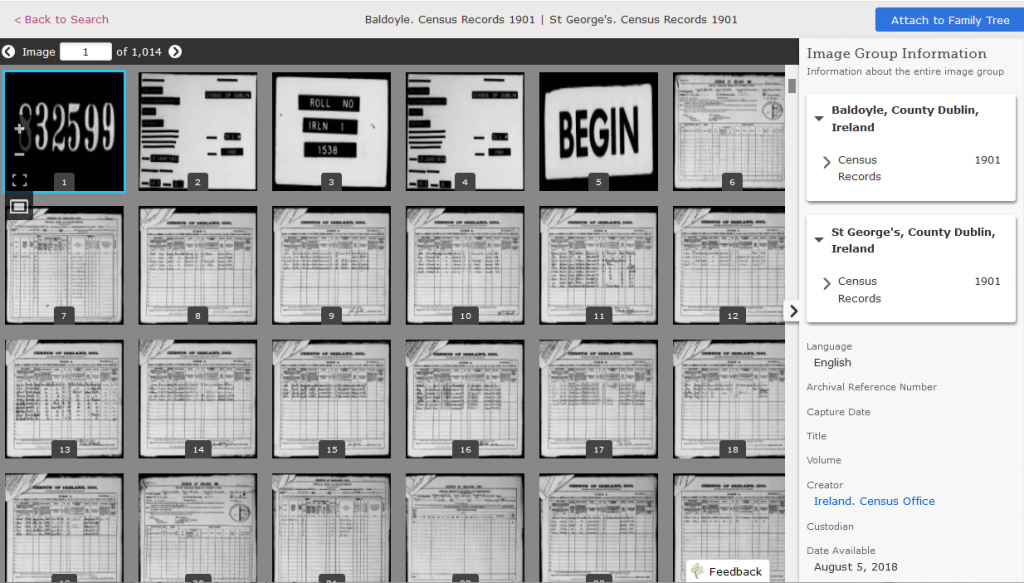 The film includes just over 1,000 images with enumerator and household forms. The film starts with Lismore Terrace, St. George's Civil Parish, Drumcondra electoral district, see the enumerator abstract at image 6, house and building returns image 7, followed by the first of the household returns at image 8. The household forms follow in the same sequence as the enumerator building return(s), so this can be used as a search.
Baldoyle town starts at image 631 (direct link – FamilySearch account required )

Baldoyle townland at image 567
Maynestown townland at image 597
Stapolin townland at image 611
Direct link to the start of the film

Update 29th March 2023 – further checks have shown that many other streets/townlands on this film are also missing from the NAI Census website, currently reviewing these … 51 streets and townlands found to be missing, see : Missing Streets and Townlands 1901 census