Various updates and fixes to the mobile phone compatible section of the website and also added new pages to shows historic c1840 Catholic and Church of Ireland parish details and Church locations.
Church markers show GPS & ITM coordinates, and also include a link to show directions to selected church using Google Maps.
Additional Menu Options for Catholic & Church of Ireland Parish Details


Select Diocese and Parish
Parish details and map of Churches as of c1840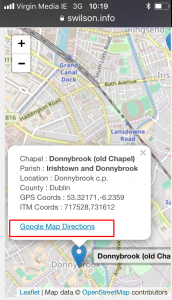 Church Details and Coordinates (click on the marker to show)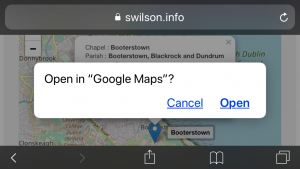 Google Maps requests permission to access your location.
Directions from your current location to the historic Church site.